Ryan Costello Strategies ("RCS") is a governmental affairs firm founded by former United States Congressman Ryan Costello (R-PA6) in 2019.
---
Meet Ryan Costello
Ryan Costello is a government relations executive and strategic advisor to companies, investment firms, and trade associations, who works to develop policy objectives and advocacy strategies on Capitol Hill. He previously served as a U.S. Congressman (PA-6) from 2015-2019.
Costello's policy expertise focuses on technology, healthcare, energy, environment, transportation, tax, and veteran's affairs. He served on the Committee on Energy & Commerce, which oversees a broad range of industries and policy areas, as well as the Transportation and Veteran's Affairs committees.  Prior to Congress, Mr. Costello served as Chairman of the Chester County (PA) Board of Commissioners, overseeing a $500M+ budget, 2500+ employees, and managing a myriad of public administrative and regulatory responsibilities. He was in private law practice from 2002-2014, and maintains an active license.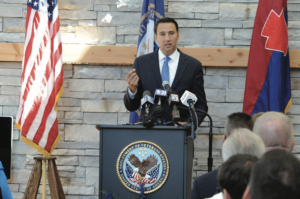 Costello sits on the Board of Directors of Phunware, Inc. (Nasdaq: PHUN), an enterprise mobile software company. He also serves on advisory boards to several private healthcare and technology start-up companies, and continues to look for additional opportunities to serve in such capacities.
In 2020-21, Costello served as a fellow at the George Washington University Graduate School of Political Management for the 2020-21 Academic Year; on the board of the Day One Project, a nonpartisan project to develop 100 ideas in science and technology to implement in the executive branch; and on the World Economic Forum Global Futures Council, participating in panels and formulation of strategic policy considerations on US. foreign policy.